Concrete Cutting Services
We can cut concrete in virtually any environment.
Concrete Cutting Contractor
At Aggregate Technologies, we have decades of combined experience among our engineers and technicians and pride ourselves on being the most advanced concrete cutting company in the Gulf Coast region. Our focus in on constant innovation and providing efficient and practical demolition solutions for our clients. We are continuously seeking ways to stay ahead of the industry with cutting edge concrete cutting equipment. With cutting-edge innovation and technology, we can perform work in one day that would require others multiple crews and extended durations.
Advanced Concrete Cutting
Through hard work and dedication to excellence and innovation, we have established Aggregate Technologies as a concrete cutting leader for Texas, Louisiana, and the Gulf Coast. We have worked on immense structures and frequent work to keep ports and other essential infrastructure fully operational. When a collision threatened to close a major portion of the Port of Houston due to a damaged pier, our team was called upon to stabilize the area and perform a rapid repair that avoided slowing down the flow of commerce in one of America's largest port cities.
Railroad & Highway Bridges

Hospitals/Medical Facilities

Manufacturing & Factories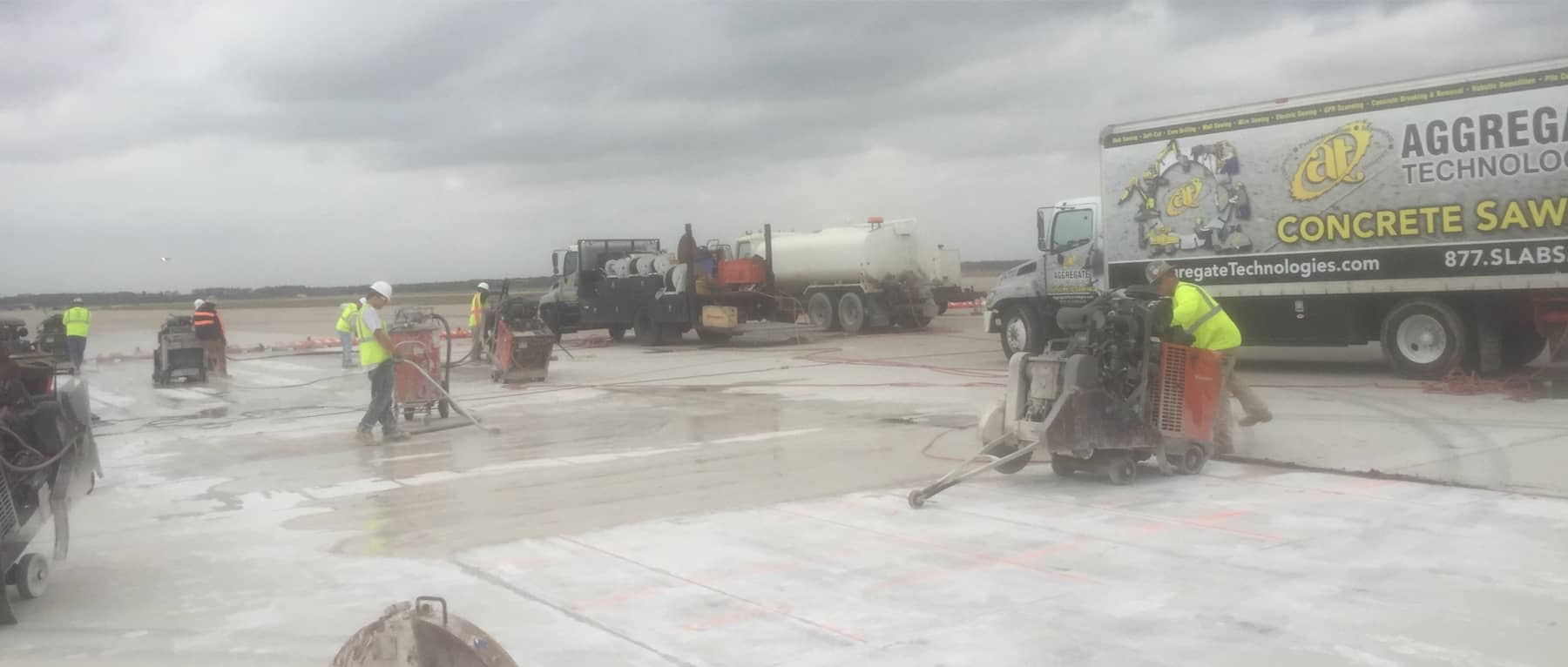 Concrete is a very resilient building material that can stand for decades without full replacement. Because of the durability of concrete as a whole, full demolition is not frequently required. This is where Aggregate Technologies specialty – concrete cutting – comes into play. The nature of concrete as a building material is very unique, especially compared to steel. It is a material that can be more effectively formed into complete structures by itself.
Largely undamaged concrete sections can typically remain standing while portions are removed via cutting and repaired with fresh concrete and steel rebar. Aggregate Technologies has the results to support our reputation as one of the leaders in the Gulf Coast construction industry, and our concrete cutting work has kept much of the region's infrastructure functioning at full capacity. We have serviced many bridges, ports, public utilities, hospitals and airports with our concrete cutting abilities
Concrete Cutting and Removal
With decades of combined experience among its engineers and contractors, Aggregate Technologies is a standout concrete cutting company in the Gulf Coast region. We pride ourselves on being an innovative company that is capable of providing a quick and practical construction solution to each and every one of our clients. Our leadership is continuously seeking ways to push our company forward with cutting edge equipment.
One area where we excel in particular is concrete pile cutting, where our engineers have patented its own pile cutting machine. This machine can remove over 200 piles in a single day with only one operator. Without this industry-leading innovation, Aggregate Technologies can perform work in one day that would require others multiple crews and extended durations.